4 cups old fashioned oats
1/2 cup coarsely chopped almonds
1/2 cup coarsely chopped pecans
1/2 cup unsweetened coconut flakes
1/3 cup sunflower seeds
1/4 cup sesame seeds
1/2 teaspoon cinnamon
1/4 teaspoon salt
1/3 cup olive oil
1/4 cup honey
1/2 cup brown sugar
1 teaspoon vanilla extract
Preheat oven to 350 degrees
Lightly coat baking sheet with cooking spray
In a large bowl, stir together the oats, nuts, seeds, flakes, cinnamon, and the salt.
In a saucepan, combine the oil, honey, and brown sugar.
Bring to boil and remove from heat
Stir in vanilla extract
Drizzle syrup over the oats as you stir with a spoon.
Pour granola onto sheet pan and spread evenly.
Bake, stirring occasionally, until golden (about 25 minutes)
Let granola cool completely before breaking up and storing in an airtight container.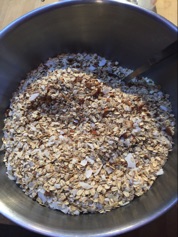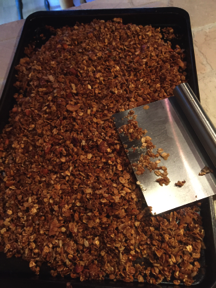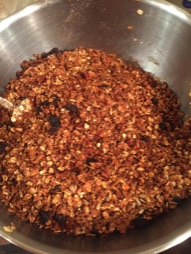 This is a great preride breakfast or snack. We like to add raisins to the finished product. We also throw in some flax seed into the mixture to give it some added crunchyness.
We also usually double the recipe