The Hub Cyclery
7880 Old Redwood Hwy.
Cotati, CA 94931
Sonoma County, USA
(707)795-6670
Business Hours:
Tues. - Fri. 10-6
Sat. 10-5
Sun. 10-4
Email:
The Hub Cyclery has partnered with some amazing brands. Click on their links below to get more information..
Support your local bike shop,
or better yet...
The Hub Cyclery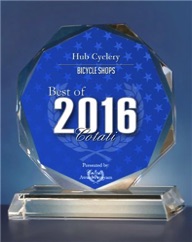 25 PERCENT OFF TO ANY FAMILY OR TO ANYONE WISHING TO PURCHASE A BIKE FOR A FAMILY WHO HAS LOST THEIR HOME IN THE FIRES. THIS IS EFFECTIVE THROUGH END OF OCTOBER, AT WHICH TIME WE WILL RE-EVALAUTE. WE HOPE THAT THIS CAN HELP WITH SOME IMMEDIATE NEEDS.